Official launch of the MSCA4Ukraine Fellowship Scheme | 6 October
30 September 2022 | From partners - Funding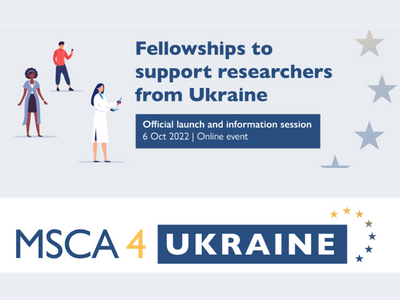 The EU's new fellowship scheme MSCA4Ukraine will be officially launched on the 6th of October during an online event. The new scheme is part of the EU's response to the Russian Federation's invasion of Ukraine and will provide support to displaced researchers from Ukraine.
This support will enable displaced researchers to continue their work at academic and non-academic organisations in EU Member States and Horizon Europe Associated Countries, while maintaining their connections to research and innovation communities in Ukraine. The scheme may also facilitate researchers' reintegration in Ukraine if conditions for safe return are met, in order to prevent permanent brain drain, and contribute to strengthening the Ukrainian university and research sector and its collaboration and exchange with the international research community.
The MSCA4Ukraine Programme of the European Commission will be implemented by a consortium comprised of Scholars at Risk Europe hosted at Maynooth University, Ireland (project coordinator),  the German Alexander von Humboldt Foundation and the European University Association, with the French national PAUSE programme, hosted by the Collège de France, and the global Scholars at Risk Network participating as associated partners.
Learn more about this new scheme, the call for applications, and the terms of reference are available here.
Source: Scholars at Risk Europe