A fundamental human right in crisis: UN calls for urgent action to transform Education at the 'Transforming Education Summit'
21 September 2022 | From UNICA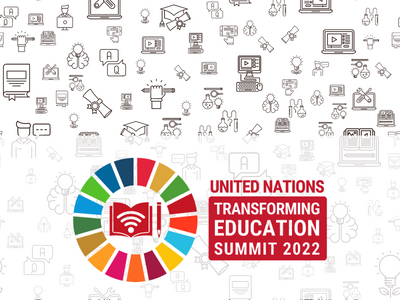 On September 16, 17 and 19, UNICA followed online the United Nations' Transforming Education Summit, a key initiative of the UN's Common Agenda. The Summit spotlighted the urgency to act fast to transform education in response to a global crisis in education concerning equity and inclusion, quality, and relevance. The Summit is a milestone in the Global Education Cooperation Mechanism's roadmap for achieving Sustainable Development Goal 4 (Quality Education).
During the Summit, several young people, key stakeholders, and decision-makers shared their expertise, views, and concerns on current problems and opportunities leading to achieving SDG4 . At the core of this process is a set of needs to be fulfilled, namely a) to ensure cooperation at all levels, b) to better and more actively align actions by education partners, and c) most important is to advance and ensure support to policy, monitoring, and finance.
A financial instrument that supports the vision
On the 17th of September, UN Secretary General (UN SG), António Guterres, and Gordon Brown, his special envoy for global education, launched the International Finance Facility for Education (IFFEd). This is a financial instrument which bring in a multi-million investment that addresses the effects of the global education crisis, along with the learning inequalities which have been exacerbated by COVID-19, climate change, and several conflicts.
Vision statement
In the vision statement of UN SG, António Guterres, titled 'An urgent political imperative for our collective future', it is defended that "Education is a fundamental human right. (…) Yet today, beset by inequalities and struggling to adjust to the needs of the 21st century, education is in crisis".
The statement goes on to draw a vision for education based on three ideas, a) "Rethinking the purpose and content of education in the 21st century", b) "Transforming education systems to meet our higher purposes", and c) "Our Collective Leadership: Keeping The Promise".
You can read the full UN SG Vision Statement on Transforming Education here.
Youth Declaration
With the purpose of driving political commitment to the need to transform education and build young people's ownership over this process, a declaration that captures youth's views, recommendations, and commitments to transforming education was presented just before and at the start of the Summit.
In this declaration, young people acknowledge their potential to be "engaged as full-fledged partners, and not only beneficiaries, in education policy and decision-making, working alongside their governments, teachers, civil society, international organizations, the United Nations, and others on transforming education".
Read the Youth Declaration here.
Read about the Summit Follow-Up.
UNICA, the Summit and SDG4
As a network operating in the Higher Education context – an area that faces many of the challenges that were pointed out during the Summit – UNICA was honored to be part of this historic moment and welcomes the commitment of global and national leaders, relevant stakeholders and the young people themselves who collectively continue pushing for a more inclusive and just Education.