COVID-19 implications on Erasmus+ students: Q&A webinar
02 April 2020 | Other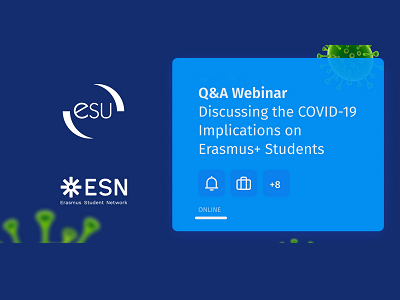 COVID-19 implications on Erasmus+ students: Q&A webinar
On the 20th of March, Erasmus Student Network together with the European Students Union hosted a Q&A webinar. During the webinar, they were joined by Oana Dumitrescu and Elena Tegovska from the European Commission's Directorate General for Education and Culture (DG EAC), as well as representatives from the Erasmus+ National Agencies of Italy and Germany.
Together, they had a chance to address questions to the European Commission regarding the challenges international students are facing due to the COVID-19 outbreak.

Here you can find the webinar and its summary.