EAIE Conference 2023: 5 transformative trends in International Higher Education (+ photos)
04 October 2023 | From UNICA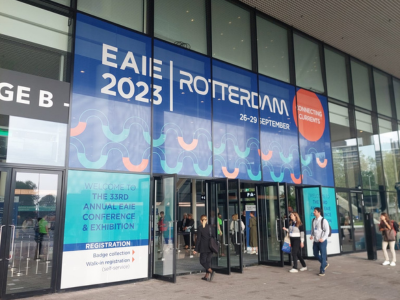 Last week Rotterdam was the stage of Europe's largest international education event. Over 6700 participants from over 2600 institutions attended the 33rd Annual EAIE Conference and Exhibition in the Dutch City, from September 26th to 29th. Under the topic "Connecting Currents", the week was packed with workshops, networking activities, an energetic exhibition and over 250 sessions on near-endless topics. UNICA was represented at this major event by the Secretary General, Luciano Saso, and two members of the UNICA Secretariat. Members of the network, European University Alliances that include UNICA universities, and affiliated partners were also in attendance of the Conference, many of whom also led sessions, workshops and had exhibition stand at the event.
Within the extensive event, there were some striking trends that caught our attention:
European University Alliances continue to reshape the landscape of higher education: since its inception in 2017, the European Universities Initiative has been driving collaboration among European higher education institutions by promoting mobility, quality assurance, and innovation. The initiative has expanded to include universities from EU member states, Iceland, Norway, Turkey, and new participants from the Western Balkans. Its mission is clear: to promote European identity, values, excellence, and transformation through strategic alliances. These alliances are characterized by diversity, necessitating dialogues with various stakeholders. However, current challenges emphasize the need for effective communication and engagement to achieve profound transformation. It was exciting to see many of the alliances represented in the Conference, either through colleagues or exhibitors, and to realise the programme included several sessions to reflect on the best ways to involve different members in the academic community in the initiative and in the overall implications of the initiative in the larger picture of higher education.

We need to re-imagine Internationalization: The way institutions approach internationalization demands a fundamental shift in response to several influential global trends. These include the growing influence of artificial intelligence and big data, a widening technological divide, the challenges posed by an aging society, the rise of awareness movements, power imbalances, the urgent issue of climate change, and threats to democracy. These transformative forces compel the sector to adopt a more precise and inclusive definition of internationalization. As highlighted in one of the Conference's sessions UNICA attended, despite institutional pledges to achieve comprehensive and responsible internationalization, the progress in this area has been slow. The landscape continues to be dominated by institutions from the global north, perpetuating a competitive, market-oriented environment. In the words of Hans de Wit, the imperative is clear: "Internationalisation must be internationalisation for society".

We can't hide from AI: ChatGPT has sent some shockwaves, but that is just the tip of the iceberg. AI has come to revolutionize Higher Education by offering personalized learning experiences, enhancing student engagement, and streamlining administrative processes. Overall, AI's integration into higher education promises to create a more efficient, inclusive, and adaptable learning environment that meets the evolving needs of students and institutions alike. However, academic communities seem to worry about the challenges it will pose, including concerns about data privacy and security, as AI systems often require access to sensitive information. Additionally, the reliance on AI may lead to a digital divide, where students without access to AI-enhanced learning tools or internet connectivity may be left at a disadvantage. Ethical considerations, such as bias in AI algorithms, also need to be addressed to ensure fair and equitable educational experiences.

Minding well-being is a (challenging) priority: wellbeing and caring for mental health has become a overriding concern. Many institutions are already implementing proactive support systems, destigmatising mental health issues, and offering accessible counselling services with the purpose of creating an environment where students and faculty can thrive emotionally and academically. However, limited resources and funding constraints can hinder the development and maintenance of comprehensive mental health programs. Addressing these struggles requires a concerted effort from institutions, policymakers, and the broader community.

The rise of global-minded educators: This year's topic, "Connecting Currents", was meant to play with the maritime history of Rotterdam as place where the river meets the sea and the similar ways in which international education actively connects 'currents' of thought, areas of expertise, disciplines and cultures. In reflection of the conference, it's evident that professionals in international higher education must possess a diverse skill set to facilitate transformative educational experiences across borders and disciplines. These skills include:

–

Cross-cultural competences

: understanding diverse cultures, norms, and perspectives and integrate them in the context of the classroom, through strategies such as the decolonisation of the curriculum;
–

Global Awareness

: Staying informed about global trends, developments, and issues in higher education helps educators make informed decisions and adapt to changing circumstances. A concept that has become very predominant is the one of "global citizenship", which can be a catalyst for internationalisation initiatives;
–

Digital Literacy

: Proficiency in technology and online tools is essential for facilitating remote and international collaborations, especially in the digital age;
–

Adaptability and resilience

: Being flexible and open to change is vital, especially after the pandemic has introduced unpredictability as a pressing challenge. It has become imperative to being ready to face challenges and setbacks while maintaining a commitment to the overarching goal of fostering international understanding and collaboration;
–

Interdisciplinary thinking

: encouraging connections across disciplines allows educators to create innovative, holistic learning experiences;
–

Networking

: Building and maintaining a global professional network helps educators collaborate, share best practices, and access resources for international education;
–

Student-centered approaches

: Prioritizing student well-being and actively involving students in their learning journey enhances engagement and success in international education.

In summary, the EAIE Conference shed a light on the trends shaping international higher education and underscored the importance of adaptable professionals who can navigate this dynamic landscape to foster global understanding and collaboration.
The UNICA IRO Reception
As usual, one of the highlights of the Conference was the UNICA IRO Reception, which took place on September 26th, at the Nhow Hotel. The informal get-together was yet another chance of connecting with the community of the International Relations Officers group and marked this academic year activities as the group prepares for its meeting in Sofia, next November.
Check out the gallery below with highlights of the EAIE Conference 2023 in general and the UNICA IRO Reception in particular: