Supporting the coordination of multi-partner EU-funded projects
Promoted by Stockholm University
The role of coordinator of EU-funded projects is perceived as very prestigious, being associated with personal scientific excellence and strong leadership skills, and therefore very desirable to researchers to raise own visibility and impact. Nevertheless, many researchers tend to be put-off from taking up the role of coordinator due to all non-scientific responsibilities associated with it.
On June 9th 2022, 11:00 – 12:00 CEST, the UNICA Research working group hosted a webinar aiming to showcase the experience at Stockholm University in encouraging and supporting researchers to become coordinators of EU-funded projects.
Speaker: Ana Cordeiro, Stockholm University
The event was moderated by Maryam Hansson Edalat, UNICA Research coordinator and Head of Office for Research, Engagement and Innovation Services (REIS), Stockholm University.
Find out more about the webinar's outcomes here.
About Ana Cordeiro
Ana Cordeiro is a project coordinator at the Office for Research, Engagement and Innovation Services (REIS) of Stockholm University, supporting researchers with management and coordination of multi-partner, large-scale interdisciplinary research projects both in the pre- and post-award phases. She is currently managing two ongoing Horizon2020 projects. Prior to joining Stockholm University, Ana was the Scientific Coordinator of the Swiss National Center of Competence in Research Bio-Inspired Materials at the University of Fribourg (Switzerland, 2014-2017), and coordinated an International Helmholtz Research School at the Helmholtz-Zentrum Dresden-Rossendorf (Germany, 2011-2014). Ana holds a doctoral degree in Engineering Sciences from the University of Porto (Portugal, 2004), and has worked nearly ten years as a researcher at the Leibniz Institute of Polymer Research Dresden (Germany, 2006-2011), the Institute of Biomedical Engineering (Portugal, 2004-2005), and the Max Planck Institute of Colloids and Interfaces (Germany, 2001-2004).
Find the presentation of Ana Cordeiro here.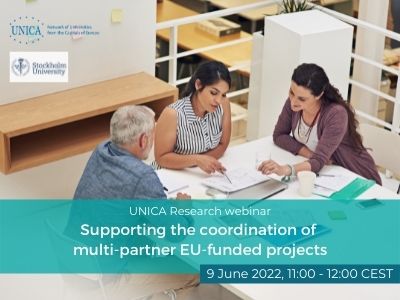 Schedule
11:00 – 12:00 CEST
Contact
laura.brossico@unica-network.eu
laura.colo@unica-network.eu