Modern approaches to the modern world: Freie Universität Berlin launches website to prepare international students for the future + international continuing courses
17 November 2021 | From our Members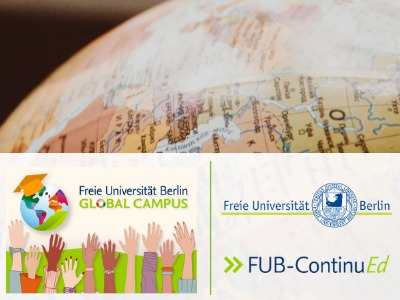 German UNICA member Freie Universität Berlin is committed to acting as a catalyst for change through modern curricula, intercultural study trips, and cultural activities to attract students from all over the world to learn, discuss, and gain intercultural experience at the university. Recently, the university launched the Freie Universität Berlin Global Campus, a platform aimed at International Students with the goal of creating a global community of empowered individuals who will actively shape a better future. The university is also invested in promoting long life learning through FUB-ContinuEd, the institution's international continuing education program. Learn more about these initiatives below!
Freie Universität Berlin Global Campus
Freie Universität Berlin Global Campus offers information on seven short-term study programs with growing attention to sustainability and the future. The course offerings include German-as-a-foreign-language courses as well as German- and English-language subject courses. Students and foreign universities will also find an overview of the services provided as part of the programs, such as accommodation arrangements. Courses take place throughout the year, at varying times and intensities, with durations ranging from three weeks to one year. Future issues and the inclusion of the United Nations' global "Sustainable Development Goals" (SDGs) play an increasingly important role in further development of the platform.
The programs are designed for maximum flexibility, so that students can select components to suit their individual situation, such as the level of study and the type and dates of courses, as well as the service options they wish to benefit from. Some programs are fee-based, others free of charge; most programs are designed to run alongside studies. Courses are offered online and on site.
A special feature of most courses is that Berlin, as a city, serves as an educational space itself and on-site instruction also takes place in cultural and political institutions in Berlin or as part of everyday life here.
Visit Freie Universität Berlin Global Campus
The launch of the website was also accompanied by three informative videos concerning Studying at FUB, Life in Berlin, and Housing options.
FUB-ContinuEd
Aimed at young and experienced professionals alike, FUB-ContinuEd provides easy-access, high-quality, flexible and affordable courses for the development of additional skills and competences. There are currently four courses available, focused in relevant topics, which run multiple times a year:
Communication and International Competence
Diversity Management in International Context
Understanding Global Sustainability Challenges
Academic Writing in German
There are 6 scholarships available for the Spring term of three of the four courses available. Learn more at the website of FU Berlin.
Visit FUB-ContinuEd
Source: Freie Universität Berlin