Master student interested in gaining experience in EU projects' management? Apply for an internship at UNICA by 9 December 2019!
01 September 2019 | From UNICA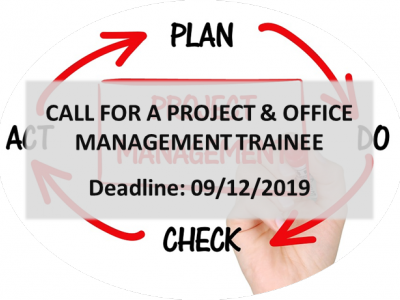 Are you a Master student interested in gaining hands-on experience in European projects and office management in an international NGO?

Priority is given to Erasmus+ Placement holders coming from UNICA member universities
As a trainee, you will take active part in the day-to-day running of our small but multinational office, have a chance to improve your communication & language skills by working closely with our team, and get exposure to the varied activities and projects of our Network that have a real impact on the functioning of Higher Education institutions.
TIME & COMMITMENT
Start date: The internship will preferably start in January 2020.
Duration of the internship: minimum 3 months. Commitments of longer duration (6 months or longer) are preferred.
Working hours: 30 hours per week (5 days x 6 hours).
LOCATION: UNICA Secretariat, c/o University Foundation, Rue d'Egmont 11, Brussels, Belgium
REIMBURSEMENT OF EXPENSES: Please note that this is a non-remunerated position. Apart from Erasmus+ traineeship grant, our trainees receive a monthly reimbursement of expenses (€350) and a monthly public transportation pass.
DESIRED PROFILE
Priority is given to Erasmus+ Placement holders coming from UNICA member universities
Required
Master student;
Very good verbal and written command of English;
Very good writing and communication skills, with an ability to distinguish between formal and informal registers;
Initiative and enthusiasm to learn, ability to take initiative and to work independently as well as within a team.
Desirable:
Experience with/notion of European Project management;
Proven interest in the EU affairs and European policies in the area of Higher Education and Research;
Knowledge of French is an asset.
SUPERVISION: The trainee will work closely with the members of the Secretariat team.
TASKS
Supporting the management of ongoing EU projects in which UNICA is coordinator or partner;
Supporting the organisation of UNICA events;
Updating & managing content of the UNICA websites, database and online platforms;
Drafting UNICA publications;
Occasionally attending Brussels-based events organized by the European Commission, European Parliament, and other partner organisations;
Other office and/or administrative duties as required.
HOW TO APPLY?
Please send your CV and a cover letter to: office@unica-network.eu with subject: "Application UNICA Project & office management traineeship" by 9 December 2019;
Your cover letter should state clearly your motivation to work at UNICA and your suitability for the position; generic cover letters or applications without cover letters will not be taken into consideration;
Please note that only shortlisted candidates will be contacted for an interview.