New Project Officer at the UNICA Secretariat: welcome Panagiotis (Pete) Chatzimichail!
02 June 2022 | From UNICA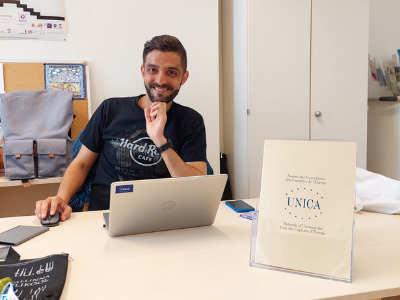 As of June 2022, UNICA has a new Project Officer, Panagiotis (Pete) Chatzimichail. Panagiotis is originally from Cyprus but lives in Brussels since 2017.

He is a Political Science and European Policy graduate from three UNICA member universities – University of Cyprus, Charles University, and Universidad Autónoma de Madrid – and has both professionally and personally been active in the civil society sector since 2010. His expertise mainly connects to the fields of youth, education and training, EU policies and EU funding programmes, while also topics like accessibility, inclusion and gender mainstreaming.

Some of the organisations he has previously worked for and (continues to cooperate with) include the Erasmus Student Network, Youth for Exchange and Understanding (YEU), Youth For Understanding, the European Youth Forum, and the Lifelong Learning Platform – European Civil Society for Education.
We welcome Panagiotis to the UNICA community and look forward to working together!