SAVES2: the end of an era, but the start of an age!
29 January 2021 | From UNICA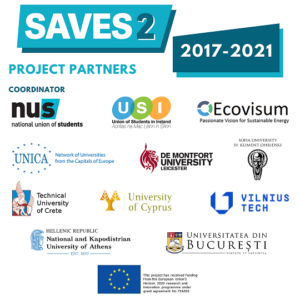 The Horizon 2020 SAVES 2 project has come to an end with a final dissemination webinar on 15 January 2021, but the good practices that encourage environmentally responsible behavior will carry on!

A special thank you to all the partners who worked very hard in the implementation of the project.
Check some of the achievements of this Horizon 2020 project below.
MISSION ACCOMPLISHED!
The SAVES 2 project encouraged students to minimize the carbon footprint in their accommodation through the Student Switch Off (SSO, aimed at university dormitories), and the Student Switch Off+ (SSO+, aimed at the private rented sector).

Achievements include:
Actual energy savings from dormitories, GWh: 5.08
Overall savings (including extrapolation), GWh: 8.18
% saving, compared to baseline: 6.78% (average)
CO2 saving (tonnes): 2,373
💡 Find the conclusions and recommendations presented at the final webinar here, or watch the recordings here
Since you're here… be reminded of some tips to save energy!