UNICA Student Declaration: students call for action to build the university of the future
04 October 2021 | From UNICA - From our Members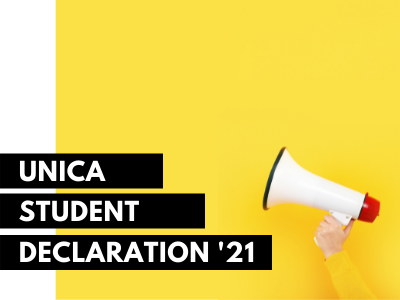 Students across Europe want universities to be more inclusive, sustainable, collaborative, community driven, prepared for the digital transformation… and more!
UNICA is proud to present the UNICA Student Declaration 2021, a formal statement and set of recommendations that voices the position and proposes solutions for common concerns written by UNICA's students on different topics related to European Higher Education and outlines solutions for common concerns.
The Declaration is the main outcome of the 10th UNICA Student Conference, organised together with NOVA University Lisbon and student/ youth organisations Erasmus Student Network, European Students' Union, and International Young Nature Friends. During the conference, which took place online in July 2021, almost 100 students from universities of the network discussed their concerns and ideas related to Higher Education and its role in the society.
Describing universities as "privileged pit stops in the route of knowledge and innovation fluxes", students agree that universities have the potential of transforming positively the cities and communities.
Divided in 10 chapters that represent the 10 Fora of discussion in which the Conference was organised, the document describes how to unlock the full potential of universities in the post-COVID 19 era, from the role they should assume in society to what curricula should look like. Nonetheless, despite different topics of discussion, there are common principles transversal to all chapters:
Inclusion/ integration:

"Higher education plays a crucial role in achieving better societies. In order to do that, it cannot afford to leave anyone behind". Students urge academic leaders to work with governmental bodies to guarantee universal access to Higher Education, paying special attention to students with disabilities, refugees and, migrants. In addition, providing the right resources increases the sense of belonging to a community and drives individuals to actively participate in it;
Collaboration:

universities integrate communities with complex concerns that require holistic solutions. Partnering with other areas and institutions is crucial to enhance the impact of universities in advancing societies. Working alone is no longer an option, cooperation between disciplines will go a longer way, just as universities working with other institutions in the private and public sector will have a stronger societal impact;
Citizenship/ Community-building:

the transformative power of universities is not only driven by advancing through knowledge, but by transformingby the transforming individuals in a community into active, engaged, and aware citizens, capable of seeking solutions to common concerns through soft skills such as creativity, team-work, problem-solving, work ethic, and communication.
Advocacy:

as part of the European space, UNICA universities can play a major role in supporting the European idea of exerting influence in the form of soft power. By becoming a hub of academic freedom and innovation, and disseminating its norms and values to the rest of the world, universities are set to be powerful influencers;
Truth:

in a world with multiple sources of information (not all of it trustworthy), truth has become a critical value that calls for strategic forces and systemssystem to protectprotecting societies, citizens and freedoms against misinformation and disinformation. Through its students and young academics, actively present in social media channels, universities should become one of those forces.
Sustainability

: "There is a strong correlation between the influence of Higher Education institutions and their accountability to sustainable development". Global challenges require global solutions, and universities can play a major role in driving change through knowledge and research. Universities can enhance the power of their core activities by partnering with other societal actors, co-creating knowledge to produce solutions;
Innovation:

for UNICA students, it is crucial that universities assume in their mission actions towards "students' preparedness", this is, "offer the courses and skills needed for the jobs of tomorrow, not the past". Innovative approaches to education must be hand in hand with the role of universities as institutions of impact;
Wellbeing:

"Mental wellbeing must be set as a priority for all higher educational institutions to make sure that the studies are effective". As institutions that play an active role in character building, it has become increasingly important to pay attention to students as a whole. By promoting the wellbeing of students, universities are promoting their full potential.
These priorities (and other principles expressed in the Declaration) are in many ways in accordance to the ones included in the new Erasmus+ Programme and the rationale behind European University Alliances, while going further in some other aspects. We hope this valuable body of work will inspire academic leaders and policymakers to prepare the future of those who will be the citizens and leaders of tomorrow.
Now it is your turn to act: start by reading the UNICA Student Declaration 2021 and share it with your colleagues!