UNICA was awarded a medal by the Comenius University in Bratislava
28 June 2019 | From UNICA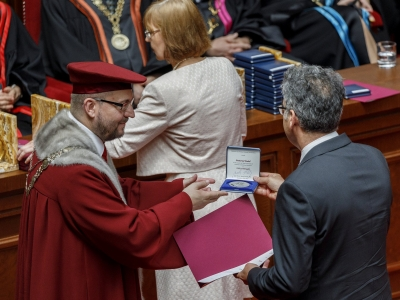 The Comenius University in Bratislava (Slovakia) awarded UNICA with a medal for its dedication and efforts towards the institution's development.
The award was presented on a Ceremonial Academic Assembly on June 27 as part of the celebrations of the centennial anniversary of the Comenius University in Bratislava. UNICA was distinguished alongside with other significant individuals and institutions which are considered to have contributed to the exceptional position within the European Academic setting that the university currently holds.
According to the awarding institution, UNICA was distinguished for «its efficient cooperation, exceptional maintenance of relationships, and assistance in further developing Comenius University in Bratislava». UNICA's President, Luciano Saso, received the award on behalf of the network.