32nd EAIE Conference and Exhibition: discover UNICA members and partners in the programme
10 August 2022 | From UNICA
Europe's largest international education event is back! This year, professionals of Higher Education from all over the world meet in Barcelona, Spain, between the 13th and the 16th of September, for the 32nd Annual EAIE Conference and Exhibition.This year's conference theme is 'The future in full colour'.
UNICA will attend this major event, represented by the President Luciano Saso and two members of the UNICA Secretariat. Members of the network, European University Alliances that include UNICA universities, and affiliated partners are also attending the EAIE Conference.
A reasonable part of these will not only attend but also take part in the workshops and exhibitions of the event.
Discover below the UNICA members and partners who are in the EAIE Conference's programme:
UNICA Members
Universidad Autónoma de Madrid, Spain
King's College London, United Kingdom
University of Helsinki, Finland
University of Copenhagen, Denmark
Humboldt-Universität zu Berlin, Germany
Universidad Carlos III of Madrid, Spain
Eötvös Loránd University, Hungary
Universities with exhibitors (14-16 September)
| | |
| --- | --- |
| University of Amsterdam (The Netherlands) | Stand |
| University of Luxembourg (Luxembourg) | Stand |
| Université PSL (France) | Stand |
European University Alliances with UNICA universities
Aurora European University Alliance (includes the University of Iceland, Iceland)
ENHANCE Alliance (includes the Igor Sikorsky Kyiv Polytechnic Institute, Ukraine (Associate Partner)
Alliances with exhibitors (14-16 September)
| | |
| --- | --- |
| FORTHEM (includes the University of Latvia, Latvia) | Stand |
UNICA affiliated partners
Erasmus Student Network
European University Association
International Association of Universities
Partners with exhibitors (14-16 September)
| | |
| --- | --- |
| Scholars at Risk Network | Stand |
---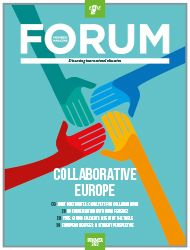 UNICA on EAIE's 2022 Summer Forum
Get ready for the EAIE Conference with the latest edition of the association's magazine! UNICA is one of the contributors of the 2022 Summer's edition of the magazine on "Collaborative Europe".
The article "The unique role of traditional networks"- written jointly by Luciano Saso, Laura Brossico, Alexandra Duarte and Laura Colò from the Secretariat – explores the strategy of UNICA in relation to the European University Alliances.
You can read the article as a member of EAIE here.