9th Scholarly Communication Seminar gathers more than 50 stakeholders in Vilnius to debate Open Science
21 October 2019 | From UNICA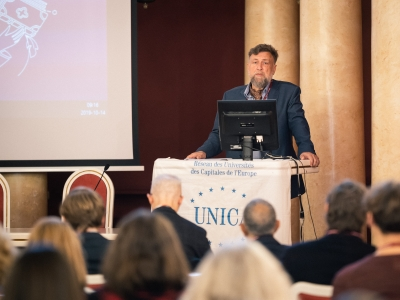 The 9th UNICA Scholarly Communication Seminar took place on the 14th and 15th of September at Vilnius University, Lithuania. The event gathered more than 50 stakeholders operating in the area of research, university press and academic libraries to discuss the challenges and opportunities resulting from Open Science.
The Seminar entitled "Academic Libraries & Open Science: How to meet the challenges?" looked into the process of Open Science strategy building in universities and how libraries are involved as partners and drivers. Various actors – researcher, librarian, publisher, research administration officer etc – presented their vision on the role of libraries in Open Science.
Jean-François Dechamp, Open Access Policy Officer at EC's DG for Research and Innovation, was one of the speakers present in this Seminar. In his intervention, Dechamp presented the role of the European Commission in the R&I context and pointed our eight priorities for Open Science, emphasizing that the European Commission regards openness as «connecting people and ideas» and as «aligning incentives and practices in the R&I system». He finished the presentation mentioning that «With Open Science, we want to give European researchers and innovators the best conditions to do their job».
Other sessions included LIBER's President Jeanette Frey presentation about "LIBER's strategy on Research Libraries Powering Sustainable Knowledge in the Digital Age"; EUA's Project Manager for Research & Innovation Lennart Stoy presentation about "Balancing forces on the publication market", EURODOC's Member of Advisory Board Dovile Kurpyte presentation; and different presentations by university libraries in Europe about their experience with Open Science.
The Seminar also included a presentation of the first open access book of Université Libre de Bruxelles, which was recently launched. The book on the refugee crisis in Europe focuses on the polarization of opinions and attitudes towards asylum seekers among citizens of the EU.

Read it now!