Arqus European University Alliance organises series of events on the "university of the future"
14 April 2021 | European Universities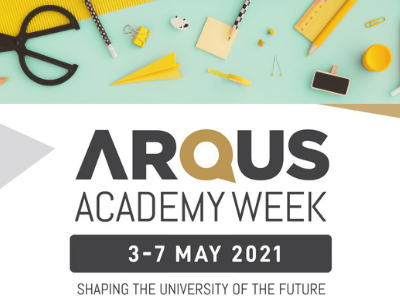 From 3rd to 7th May 2021, Vilnius University (VU) hosts the Arqus Academy Week 2021, a week full of interesting discussions, lectures, workshops and other events organised by the Arqus European University Alliance.
This first edition, with the motto of "shaping the university of the future", aims to engage the communities of the universities in discussing a renewed vision for higher education.
Visit the website of Arqus to find out about Arqus Academy week and register to the sessions of your interest.
About Arqus European University Alliance
UNICA member in Arqus: Vilnius University, Lithuania

---
The Arqus European University Alliance brings together seven longstanding comprehensive research universities who share extensive experience in joint projects and a common profile as internationalized institutions with deep regional engagement in medium-sized cities.
Arqus aspires to build on the member universities' sound prior experience in cooperation to consolidate a joint governance structure and facilitate the development of consensual joint policies and action plans, to consolidate participative structures to facilitate cross-cutting integration at all levels of the partner institutions, and to share its experience with other groupings in order to communicate the added value to be found in its model of integration.