Discover the network of Nature Positive Universities and get your institution to sign the Nature Positive Pledge
22 November 2022 | From partners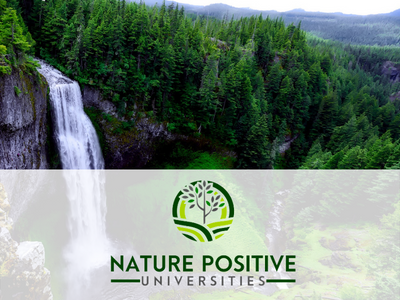 People in over 400 universities worldwide – including UNICA universities – have expressed an interest in joining the Nature Positive Universities, a global network launched by UNEP in collaboration with University of Oxford to support the prioritisation of nature restoration within the higher education sector. This is an initiative affiliated with the UN Decade on Ecosystem Restoration, a global rally to prevent, halt and reverse the degradation of ecosystems on every continent and in every ocean.
The Nature Positive Pledge
The network is currently appealing for universities to commit to making a "Nature Positive Pledge" on behalf of their whole institution. This is a commitment to start a Nature Positive journey, which means restoring species and ecosystems that have been harmed by the impacts of a university and its activities and enhancing the university's positive impacts on nature. The Universities who commit ahead of the 1st of December will be the founding universities of the Nature Positive journey as this will be officially launched during COP15 in Montreal in December 2022.
What does it mean to sign the Pledge?
By signing up as a University, the institution's commits to carrying out a baseline of its impacts on nature, setting smart targets, carrying out actions to meet those targets, and reporting back annually on the progress. Only those in positions of university management (Vice Chancellors, Rectors, Heads of Sustainability) can make a pledge in the name of the institution, but a draft letter addressed to those leaders is available for anyone to ask them to consider the initiative.
There is also a collection of suggested actions for people in the university community to take.
Opportunities for students
For students specifically, it is possible to take part in the Nature Positive Universities Student Ambassadors programme. This is a chance to experience volunteering with mentors at University of Oxford and UN Environment Programme and network with a community of like- minded individuals wanting to make changes for nature on their campuses and communities.
Learn more about:
---
UNICA Universities in Nature Positive Universities
There are currently nine UNICA member universities associated to the Nature Positive Universities, either by having people part of the network, having taken the Pledge, or having Student Ambassadors.
Check them below:
Institution
Affiliation to the Nature Positive Universities
Polytechnic University of Tirana (Albania)
Includes people that are part of the network
Tallinn University of Technology (Estonia)
Includes people that are part of the network
University of Helsinki (Finland)
Has taken the Nature Positive Pledge
Freie Universität Berlin (Germany)
Includes people that are part of the network
University of Amsterdam (The Netherlands)
Includes people that are part of the network
Middle East Technical University (Turkey)
Includes people that are part of the network
Kings College London (United Kingdom)
Includes people that are part of the network
Includes Student Ambassadors
University of Edinburgh (United Kingdom)
Includes people that are part of the network
Includes Student Ambassadors
Cardiff University (United Kingdom)
Includes people that are part of the network