How European University Alliances address the question of well-being
Promoted by Semmelweis University
The wellbeing of students and higher education staff as well as the urban population gained attention over the past decade, and has become crucial as a result of the Covid-19 pandemic.
The importance of this issue is also reflected in the UN's Sustainable Development Goals, as it lies in the intersection of SDG 3 Good health and well-being as well as SDG 11 sustainable cities and communities. In line with the increasing effort of the higher education institutions around the globe to contribute to the SDGs and serve their wider community, several European University alliances have a special focus on the different aspects and challenges linked to the well-being of their academic community and the wider urban population.
As part of the FestiWell, Semmelweis University and UNICA are hosting a webinar aiming to facilitate the discussion about different approaches and showcase good practices and initiatives implemented by UNICA members who are also members of European University alliances.
Did you join the webinar? Please fill out this short evaluation form of the event!
Did you miss the event? Watch it now!
Presentations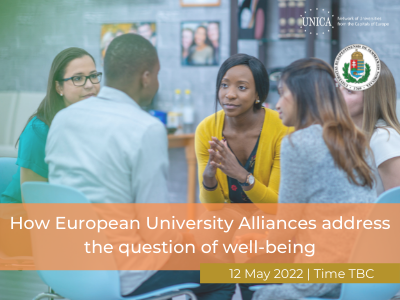 Schedule
11:30 – 13:00 CEST
Contact
laura.colo@unica-network.eu
laura.brossico@unica-network.eu