UNICA General Assembly 2011
The UNICA General Assembly 2011 took place on 13-15 October 2011 in Tallinn. It was organised by Tallinn University in cooperation with Tallinn University of Technology. It gathered 58 participants from 28 UNICA member universities.
In the framework of the Administrative General Assembly, the UNICA President and Steering Committee elections were held. Prof. Stavros A. Zenios (University of Cyprus) was elected for the second term as UNICA President.
Three current UNICA Steering Committee members were re-elected for another term: Dr Inga Bostad (University of Oslo), Prof. Uwe Nagel (Humboldt Universitaet zu Berlin), and Prof. Rein Raud (Tallinn University). They will be joined by two members elected for the first term, Prof. Jean-Pierre De Greve (Vrije Universiteit Brussel) and Prof. Luciano Saso (Università degli Studi di Roma "La Sapienza"). The new Steering Committee will start their work on January 2012.
The Award Ceremony of the 2nd UNICA Entrepreneurship Competition took place in the framework of this year's General Assembly.
The UNICA Entrepreneurship Competition for Students and Young Researchers awarded:
1st Prize (20,000€) to Sebastian Schulze and Asaf Moses from Humboldt Universität zu Berlin for the business plan "Upcload"
2nd Prize (10,000 €) to Philip Paar and Timm Depper from Freie Universität zu Berlin for their project "Laubwerk: Powerful 3D Plants Solutions for Architecture, Media, and Entertainment"
3rd Prize (5,000€) to Stavros Papastavrou, George Stylianou, and Demetrios Hadjiachilleos (University of Cyprus) for their business plan "VI Scientific: Mobile Vision Products for the Blind and Visually Impaired"
Our warmest congratulations to the winners and our best wishes for their ongoing success!
UNICA warmly thanks the Organisers in Tallinn for the excellent preparation of the event, Speakers for their enthusiastic deliveries, as well as all the Participants: Rectors/Presidents, Vice-Rectors/Vice-Presidents, and International Relations' Officers for their attendance and contribution to the success of the event.
Attachments:
| | | |
| --- | --- | --- |
| | UNICA GA PROGRAM V 11 Oct.pdf (444.69 KB) | DOWNLOAD |
| | UNICA General Assembly 2011 letter of invitation.pdf (329.55 KB) | DOWNLOAD |
| | GA 2011 List of Participants.pdf (190.69 KB) | DOWNLOAD |
| | AGENDA_Administrative GA 2011_Tallinn.pdf (429.81 KB) | DOWNLOAD |
| | UNICA PRESIDENT'S REPORT 2010-2011.pdf (1.57 MB) | DOWNLOAD |
| | Powerpoint UNICA PRESIDENT'S REPORT_2011.pdf (2.02 MB) | DOWNLOAD |
| | A3 UNICA policy for projects.pdf (347.47 KB) | DOWNLOAD |
| | A7 UNICA WORK PROGRAM-2012.pdf (597.07 KB) | DOWNLOAD |
| | Information_Package_UNICA General Assembly_0.pdf (222.6 KB) | DOWNLOAD |
| | Powerpoint presentation Ankara University.pdf (882.01 KB) | DOWNLOAD |
| | Powerpoint presentation King's College.pdf (1.45 MB) | DOWNLOAD |
| | Enterpreneurship_Competition 2009 finalists.pdf (248.06 KB) | DOWNLOAD |
| | Powerpoint Entrepreneurship Competition JADE Simona Lascu.pdf (1.96 MB) | DOWNLOAD |
| | Parallel meetings Open Space for Projects_ Jean Pierre De Greve VCProject.pdf (226.66 KB) | DOWNLOAD |
| | Parallel meetings Open Space for projects_Gregory Makrides INENTER.pdf (844.45 KB) | DOWNLOAD |
| | Parallel meetings Open Space for Projects Lidija Honzak.pdf (499.33 KB) | DOWNLOAD |
| | Parallel meetings Green Academic Footprint Workshop pre-GA Tallin From policy to strategy.pdf (914.39 KB) | DOWNLOAD |
| | Green Pledge Inga Bostad GA Tallin UNICA Green Academic Footprint.pdf (895.5 KB) | DOWNLOAD |
| | Jacques Lanares UNICA AG WG-Evaluation and Research Tallinn 10-2011.pdf (486.56 KB) | DOWNLOAD |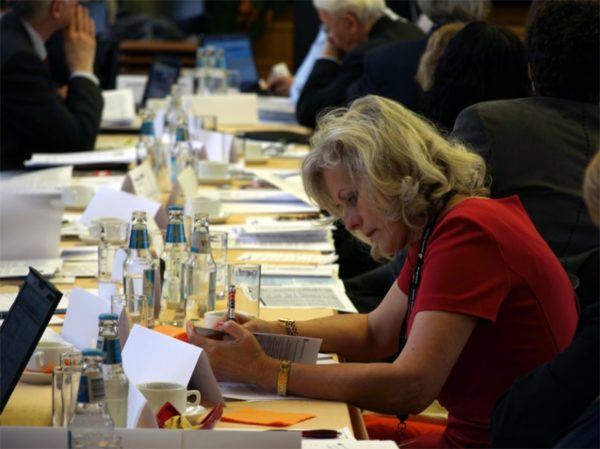 13 - 15 October 2011
Tallin, Estonia
Tallinn University in cooperation with Tallinn University of Technology