Join the European University Alliance 'EuroTeQ Engineering University' in its first high level event on Educating Responsible Professionals in Europe
01 July 2021 | European Universities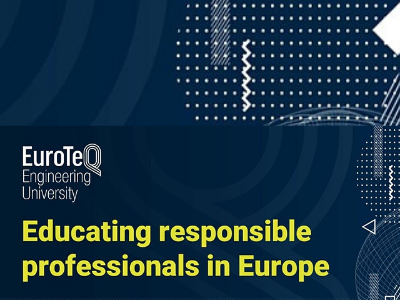 The EuroTeQ consortium (comprising UNICA member TalTech and 5 further Technical Universities) is organizing the first high-level event of the newly established EuroTeQ Engineering University, fostering the collaboration between six strong Technical Universities and 45 associated partners with the aim of incorporating the European spirit in a future-proof and innovative engineering education.
The event titled "EuroTeQ Engineering University – Educating Responsible Professionals in Europe" will be livestreamed on July 7, from 15h30 to 17h30 (CEST).
The program includes:
Keynote speech by Isabelle Reymen, Professor and Scientific Director TU/e Innovation Space, Eindhoven University of Technology
Keynote speech by Klaus Köhler, Senior Vice President Talent-, Transformation Management BMW Group
a high-level and interactive panel discussion with young start-up founders from Denmark
Intervention by a student representative of the EuroTeQ Student Council.
Concept note: As Universities of Science and Technology, we are all aware that today's students will become the future employers, employees, professionals and educators that nurture our society and tackle modern challenges. Beyond excellent technical skills, we need to equip them with a responsible mind-set and the competences to answers all the demands of today's constantly evolving fast-paced world. Discuss with us, how we – and especially European Alliances such as the EuroTeQ Engineering University – can pave the way to engineer Europe's future.