Semmelweis 250 Clinical Conference, 9-10 November 2020
28 October 2020 | From our Members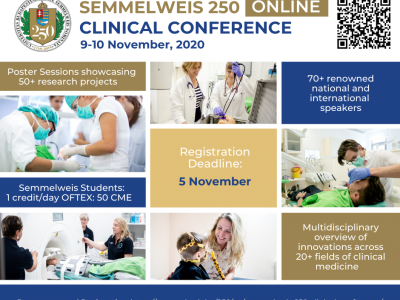 Semmelweis 250 Clinical Conference
will take place in the form of an ONLINE event (via Zoom Webinar)
on 9-10 November 2020.
As one of the flagship events of the 250th anniversary programme series, the Semmelweis 250 Clinical Conference will be the very first international conference showcasing the clinical activity of Semmelweis University in its complexity, providing a multidisciplinary overview of innovations and developments in different fields of clinical medicine, presented by 70 renowned national and international speakers. The online conference will also include a poster session, showcasing more than 50 research projects. We welcome medical specialists, PhD candidates and upper-year medical students (4-5-6th years) to attend.
Find the programme and the registration form here.
The link for access will be sent to registered participants.