THEE Partners meet at the University of Salerno, Italy, as project approaches the end
16 May 2022 | From UNICA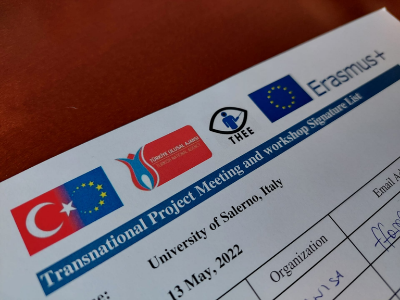 Partners of the project "Teaching Effectively in Higher Education via Eye-Tracking" (THEE) met at the University of Salerno, Italy, on May 13 for a consortium meeting as the project enters its final stage. Partners involved in the project include UNICA, members Middle East Technical University – METU (Turkey) and Vilnius University (Lithuania), Ataturk University (Turkey), the University of Salerno (Italy), and research and development company DamaSistem.
During the meeting of the project, which aims at improving teaching and classroom management skills by studying eye movements and translating them into data that contributes to more efficient lecturing, partners presented the results of data collection and preliminary findings.
UNICA attended this meeting and presented the dissemination plan for the final phase of the project.
What has been done so far?
Eye movements of lecturers and students during class were recorded with special glasses at in METU, Ataturk University , University of Salerno, and Vilnius University. The recordings started in 2020 but were interrupted due to the pandemic, being resumed in 2021. With all data collected, partners are currently analysing them.
The analysis of eye data will give direct information about the cognitive process of lecturers, allowing them to improve their teaching skills. Preliminary results have already shown that, after watching themselves, some lecturers became more self-conscious of their classroom interaction and tried change some aspects of their behaviour to improve the learning process. This includes changing their position in the classroom or the way they address students.
Based on preliminary results, four different courses are being prepared by METU and Ataturk University. This computer-aided learning content is being designed and developed to facilitate the rapid transfer of knowledge and skills that academicians should acquire.
What's next?
Translation of content to each of the languages of the countries of the universities involved in the project is currently taking place and should be finished within the next month. This will bring the course production to an end. With this, dissemination of results and the computer-aided learning content will start, both through online tools as through the organisation of different multiplier events in the different countries of the consortium's partners. One of those events will be organised by UNICA, in July. The project is set to finished on August 31.
Learn more about the project here.