TWE+ Innovative methodologies for mobile academics – An international pedagogical "reverse" conference, 3 June 2021
09 June 2021 | From UNICA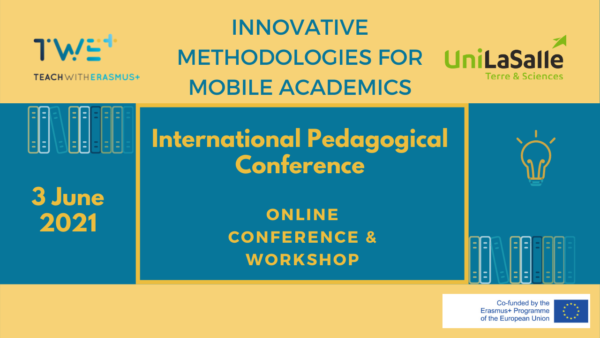 On 3 June 2021, the Teach with Erasmus+ project, UNICA is a member of, held its second multiplier event with the title « Innovative methodologies for mobile academics – An international pedagogical "reverse" conference ». The online event was hosted by Uni LaSalle and was open to academic experts from all the world interested in teaching mobility.
Why reverse? The essence of the Teach with Erasmus+ (TWE+) project is to learn about and build on the needs and opportunities of the teaching staff when speaking about mobility. Thus, no panellist has been invited: the main protagonists of the event were its participants, who are also the main experts and beneficiaries of the project.
By using the online tool Miro, participants worked in breakout rooms to address the following challenges and discuss opportunities:
The morning session titled "Drivers for innovation and impact on teaching styles" addressed two issues:
Helping and supporting learning processes: student as the "cornerstone"
To keep students at the centre of universities' lens, it would be useful to establish a mentor for students and/or a guide for incoming students and inform them on the social activities they could be involved in. Participants also expressed the need to have the feedback of the students to improve their university experience.
Impact of innovation on teaching behaviours
The adoption of digital tools carries an issue already present in the relation between students and teachers. Generation Z was already digitised and the pandemic brutally showed the need for teachers to adapt. Mobility is an excellent way to implement teaching skills and adopt more innovative methods. The digital tools are an opportunity to share the mobility results and the good practices in internationalisation.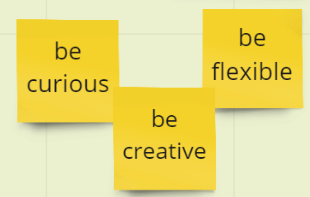 The second part of the morning session, titled "Pedagogical Innovation and Mobility – What's the point and whose behind" was also divided in two main related topics:
Pedagogical innovation: where to start?
The participants agreed on the beneficial impact of sharing between peers to innovate their teaching methods. Starting a teaching mobility facilitates these exchanges and promotes internationalisation within the institutions. Participants also expressed the need to be constantly trained (especially in technology and English) to keep up or catch up with the younger generations.
Institutions and pedagogical innovation: what's the deal?
Institutional recognition of teaching should be as important as that of research and scientific activities, which is currently not the case in most universities. Pedagogical innovation has to be assured by the institution (through better facilities, technical and financial support). International networks have an essential role in promoting the best practices among institutions. Once again, the perspective of students has been underlined, universities should adapt to their needs to keep them committed and motivated.
After a deserved break, people joined the afternoon session "When learners are in the foreground – impact of teacher mobility".
In this session, participants could focus on: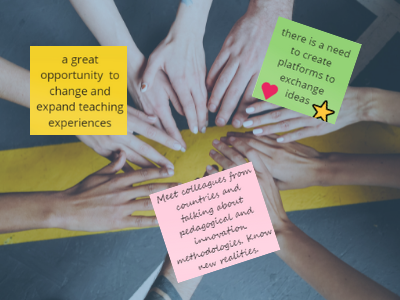 When teachers step back: case studies, peer to peer learning, and alumni ambassadors
Institutions should assure students the recognition they deserve, by the introduction of lifelong courses, fund prizes, collaboration with alumni associations, etc. Exchange is also important between students themselves (4th year students could act as mentors for 1st year students, story telling about Erasmus experiences can motivate to have an international experience and student conferences, e.g. the UNICA one, would help create transnational bonds).
How to adapt to each single student? Adaptive learning to reach every student
Innovation again found fertile terrain in the debate and insightful ideas came up such as: the delivery of various way of teaching (podcast, readings, videos), digital platform to track student progress, recorded videos for students unable to attend lectures, evaluation questionnaires, personal consultation for small groups or by the usage of social media platforms, support students in taking responsibilities in their learning process (establishment of projects, e-portfolio). Innovation is not l'art pour l'art but is an essential tool of inclusion. Many students, in or beyond Europe have no proper Internet connection, which did not allow them to follow the classes live. Thus, podcasts and video recordings ensured that students could keep up with the classes.
The second and final session covered the topic of "Pedagogical innovation as an international strategy – mobile at home".
"How to embed the SDGs in syllabuses"
Participants shared their views on the role of SDGs in higher education and teaching, as well as concrete examples and practical hints and tips on how to embed the SDGs in their classes. Participants agreed that it is important to lead by example, which can motivate other colleagues as well as students to get more engaged in the topic.
Can online learning provide a different international learning environment?
YES! Through online activities, we are able to reach more people and from different countries, we can exchange experiences with other universities, we have access to more diverse and broader information. On the other hand, the different realities in which students live should be considered to ensure that nobody is left behind.

At the final stage of the conference, experts of TWE+ project team summarised and commented on the outcomes of the breakout room discussions based on the boards produced on Miro.
This conference helped understand the needs of the main beneficiaries of the TWE+ project, i.e. to be kept under the loop and trained, which helps them address new challenges. In this respect, encounters and exchanges between teachers and students, international exchanges between peers and institutions are of great support. That's why we work for sustainable mobility to dive into our cultures, innovate, never stop learning and create a more sustainable world.
Join us for the final conference on 2nd July!