UNICA member, Université PSL, organises webinar on the topic of "HUMAN RIGHTS under fire" | 9 December
08 December 2021 | From our Members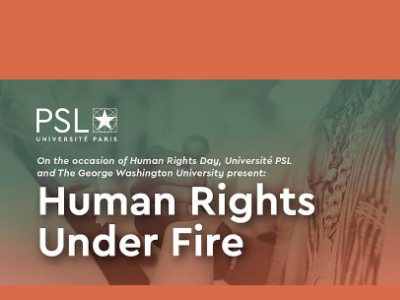 On the occasion of Human Rights Day on December 9, French UNICA member, Université PSL, is organising a webinar titled HUMAN RIGHTS under fire, from 6pm to 7:30 pm (CET).
The webinar will have the following speakers:
Students from The George Washington University and Université PSL, who will open the floor with a debate on What is the greatest challenge in Human Rights for your generation ?
Mr. François Croquette, former French Ambassador for Human Rights, and currently Director of Sustainable Urban development for the City of Paris;
Ms. Laura Lohéac, director of PAUSE, the French National program for the urgent aid and reception of artists and academics in exile.
This webinar is co-organized with The George Washington University (USA).
The floor will be opened for questions after the speakers have presented their life-experience and commitment to Human Rights. The conversation will be moderated by Paul Hayes, director of Debate at the George Washington University & Emilienne Baneth, vice-president in charge of SDG partnerships at Université PSL.
Learn more and register here.