UNICA member University of Vienna to join European University Circle U.
15 November 2021 | European Universities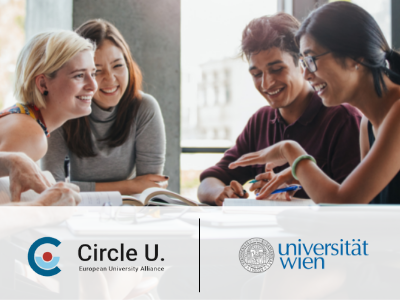 Circle U. is broadening the alliance with the addition of two new partners: the UNICA member University of Vienna (Austria) and the University of Pisa (Italy), bringing the total of universities in this European University to nine. With the addition of the University of Vienna specifically, UNICA now ha 37 member universities (out of 54) taking part in European University Alliances. This addition also puts Austria in UNICA's map of European University Alliances.
The broadening of Circle U. was confirmed during the alliance's General Assembly held on the 12th of November 2021, when rectors and presidents of the seven universities of Circle U. voted unanimously for the inclusion of the University of Vienna and the University of Pisa. The inclusion of the two new universities aims at strengthening Circle U.'s mission as a European university that is built on centuries of experience in societal impact, that fosters research excellence and research-driven teaching and that thrives for innovative and inclusive teaching to empower its students. Both new partners will be effectively entering the alliance from January 2022.
Heinz W. Engl, Rector of the University of Vienna, underlined that "this is a further major step forward in terms of the strategic development of the University of Vienna and our identity as a truly European university. We are looking forward to working with our partners in Circle U. to develop innovative teaching methods, conduct high-quality research and make a positive contribution to some of the most important issues in today's society, including sustainability, democracy and global health."
The signature ceremony will take place on 28th of January at the Mission of Norway to the European Union in Brussels, in presence of partners and key European, national and regional stakeholders.
About Circle U.
Currently involving seven partners (Aarhus University, Humboldt-Universität zu Berlin, King's College London, Université de Paris, University of Belgrade, University of Louvain and University of Oslo), Circle U.'s mission is to become an inclusive, research-intensive and interdisciplinary European university by 2025. To achieve this, students, staff and partners from civil society, businesses and the public sector collaborate to jointly develop competencies and solutions for keeping Europe and our planet healthy, peaceful, democratic and prosperous. Lear more at the Circle U. website.