CALL FOR CONTRIBUTIONS: 10th UNICA PR & Communication online workshop
In October 2020, the UNICA PR & Communication group met online for its 9th annual workshop to share experiences related to the challenges of communicating with academic communities during uncertain times. Besides general concerns on how to connect to a community that was suddenly physically distant, the workshop focused on branding and advertising to support the recruitment of international students in the (post) COVID-19 era.

Two years and many lessons later, it's time to reflect on the transformation that PR & Communications Offices went through, in particular when it comes to marketing and recruitment of international students. From old practices that stayed behind to new trends in admissions strategies, the upcoming UNICA PR & Communication workshop wants to celebrate 10 editions debating university communication by reflecting on the new profile of PR & Communication offices and what is expected from officers in this area now that we've entered the post-COVID era.
Get involved by sharing the experience of your university!
More details about the call here
The pandemic had a deep impact on the teaching and learning activities in universities. The digitalisation process was accelerated, with students no longer needing to be physically present at the university to have access to the educational experience. This had a profound impact on the profile of individuals of Generation Z, which is probably one of the major victims of the pandemic. Students had to shift rapidly and to learn to be flexible and professional. They need now to face challenges related to uncertainty of future and mental well-being.
Consequently, recruitment of international students also needed to adapt during the pandemic and is evolving in what is called "the new normal". In the 10th edition of the UNICA PR & Communication workshop, we would like to learn more about how marketing strategies for the purpose of recruitment at UNICA universities shaped after the pandemic. Was there any impact of the pandemic in enrollment rates? If yes, did it impact at all levels or just to one or more categories of students? How did the pandemic shape the expectations and decisions of international students? Did your university implement special recruitment measures during the pandemic? Are these measures still applying within your university?
In this online workshop we would like to focus on one or more of the following topics:
The new profile of universities and students in the post-pandemic
Making your university distinct
Adapting communication to country specificities (e.g. Chinese students)
Uncertainty VS planning of the academic year
Empathy marketing (not selling but provide assistance)
The use of social media
Maintaining a sense of community at distance
The impact of online activities in university marketing
Changes in admission procedures and real time data collection
Engagement with Alumni for the purpose of recruiting
Does your university have good practices and learning experiences related to international student recruitment after the pandemic? Do you have a good story to tell on how your university has changed to adapt to Gen Z students' needs? What have you learned about your community with physical distancing?
Apply now to be one of the speakers of the 10th edition of the UNICA PR & Communication workshop!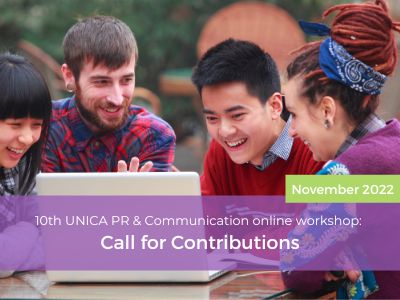 23 November 2022 TBC, the exact date of the event will be decided with the selected speakers
Online
Contact
laura.colo@unica-network.eu
alexandra.duarte@unica-network.eu