UNICA Green webinars 2020-2021
Since 2011, the UNICA GREEN & SDGs Working Group has been acting as a platform for the UNICA network to discuss and exchange experiences and good practices related to the implementation of sustainability strategies at universities. We are now happy to announce a series of short webinars with the aim to exchange good practices and experiences and foster peer learning around some of the major issues that Sustainability Offices of UNICA member universities are addressing.
Given the growing relevance of sustainability and the increasing commitment of HE Institutions to the implementation of the SDGs, this initiative also aims at fostering synergies within the UNICA network as well as with other UNICA Working Groups in addressing challenges that are crucial not only for universities, but also for our common future.
#3 Social and Civic Responsibility: Adopting a whole institution approach | 26 March 2021, 11:00 – 12:30 (CET)
Promoted by the University of Edinburgh
Social and civic responsibility means helping to shape society in a positive way, such as by reducing inequalities or improving environmental protection. As large organisations, universities can have both positive and negative impacts on the natural environment and society, both locally and globally. By focusing efforts on social and civic responsibility, universities can actively choose to increase the positive impacts through its learning and teaching, academic research, operations and partnerships.
The webinar will provide case studies of universities adopting whole institution approaches to social and civic responsibility issues. It will also provide an opportunity for participants to share and talk through opportunities and challenges at institutions to adopting a whole instituion approach.
Download the programme
Did you attended the webinar? Don't forget to fill in this short evaluation form of the event!
Presentations:
---
Check the past UNICA Green webinars!
#2 Climate neutrality. A theoretical approach | 22 January 2021
Promoted by the University of Lausanne
The speaker. Augustin Fragnière works at the Interdisciplinary Centre for Sustainability (CID) at the University of Lausanne. With an academic training in philosophy and environmental sciences, he has conducted research on the ethical and political dimensions of global environmental problems, in Switzerland, France and the United States. His current work focuses more specifically on issues of climate policy, and contributes to the ongoing debate about climate neutrality. Augustin also provides expertise to local authorities (e.g. the cities of Lausanne and Geneva) to help them develop their climate strategy. In his presentation, Augustin talked about the notion of climate neutrality, its various definitions, and how it should translate into the climate strategy of institutions and communities.
#1 How to lead climate action in universities? | 16 December 2020
Promoted by Vrije Universiteit Brussel and Université libre de Bruxelles
Topics:
From carbon footprint baseline measurement to Climate Action Plan: calculation of our climate impact and its importance towards climate actions and strategic planning.
How to implement a climate action in the institution? Some insights on the methodology to elaborate, implement and monitor a climate action plan.
Presentations
From a carbon footprint baseline to climate action, by Rebecca Lefevere, Sustainability Manager, Vrije Universiteit Brussel
How to lead climate action in universities? Some insights on the methodology to develop and implement a climate action plan, by Inês Cabrita, Project Lead, Environment & Mobility Department, Université libre de Bruxelles, and Chair of the UNICA Green Working Group, and Alexandra Demoustiez, Sustainability Director, Université libre de Bruxelles
---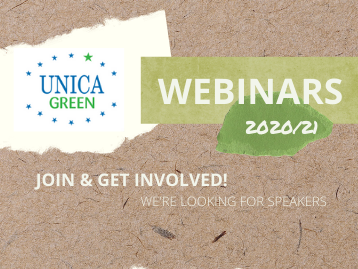 Schedule
Upcoming webinar: 26 March (11:00 – 12:30 CET)