UNICA Research Seminar, Brussels | 8-9 February 2023
After many online meetings in the past two years, the UNICA Research Working Group will be holding its first physical meeting since the pandemic started, in Brussels, on 8 and 9 February 2023.
As part of the Seminar, participants will get to discuss the role of Academia and Universities on:
The Seminar includes a series of sessions taking place on 8 February (full day) and 9 February (half day, followed by optional social programme early afternoon):
European Commission DG R&I 2020-2024 Strategy and General Objectives – What is the role and the impact towards Higher Education and HEIs? What opportunities are available for shaping policies and accessing funding?
Innovation and Cross-sectorial Cooperation – Building meaningful cooperation and using public and European funding for leading innovative approaches in research.
UnILiON – Getting to know the work of the Universities Informal Liaison Offices Network
How to support grant-writing (Contributions/case studies by UNICA members)
Post-award good practices (Contributions/case studies by UNICA members)
The agenda will also provide the participants with the opportunity to exchange, discuss and reflect together about the different topics through Q&A sessions and informal round tables which will be scheduled after each thematic session.
The detailed programme will be available soon but you can already register to the event and consider submitting a short proposal to contribute to the Seminar as a speaker!
JOIN AND GET INVOLVED!
REGISTER TO THE SEMINAR HERE!

UNICA Research Seminar 2023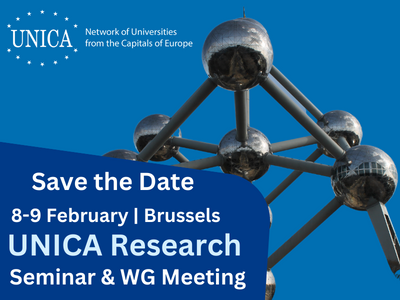 8 - 9 February 2023
Brussels
UNICA
Contact
Panagiotis Chatzimichail (panagiotis.chatzimichail@unica-network.eu) or Laura Brossico (laura.brossico@unica-network.eu)