Join the Blended Learning Days with NOVA University Lisbon, Universidad Autónoma de Madrid, and Università Tor Vergata
31 March 2022 | From our Members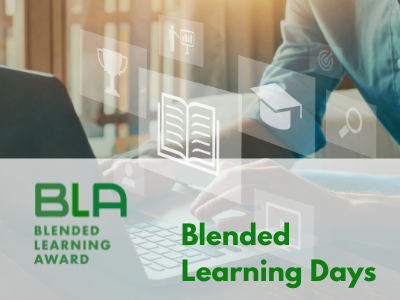 UNICA members NOVA University Lisbon, Universidad Autónoma de Madrid, and Università Tor Vergata are organising the Blended Learning Days, in the framework of the Erasmus+ funded project BLA – Blended Learning Award. The initiative consists of a three day event on 4, 5 and 7 April and, in line with the rationale of the project, it will have a blended format: physically in each university in a different day of the event and all streamed via Zoom.
The event aims at gathering cutting-edge knowledge on blended learning innovative practices across higher education institutions in Portugal, Spain and Italy, and to present the three courses at each institution recognised under the first edition of the Blended Learning Award.
Target audience includes students, faculty and staff involved in blended learning and virtual mobility policy.
Download the program and register for each day:
About the Blended Learning Award (BLA)
The Blended Learning Award is a threefold initiative funded by Erasmus+ that aims at recognizing the innovative learning approach that combines online educational strategies with traditional place-based classroom methods. The Consortium will reward the best blended-learning courses in each of the three universities, in different areas of knowledge, and the efforts of their faculty to respond to the COVID-19 challenge of distance education, through the creation of an International Blended Learning Award ("BLA").
The most innovative aspect of this initiative is that all three partner HEI are committed to jointly offering the awarded courses, thus allowing for a true virtual mobility based on a shared international catalogue of blended learning courses that will be available to students of the HEI of the Consortium and their partners. Learn more | Visit project's website