Prof. Anastas GERDJIKOV
Prof. Dr. Anastas Gerdjikov is Rector of Sofia University "St. Kliment Ohridski", the oldest and largest University of Bulgaria. Previously he has been Member of the Academic Council, Vice-Rector responsible for Accreditation and Research and Vice-Rector responsible for PhD education of Sofia University, as well as member of the board (2015–2022) and Chairman (2020– 2022) of the Bulgarian Rectors' Conference.
He graduated with a master's degree in Classical Philology from Humboldt University, Berlin and since 1991 is Professor in Latin language, Ancient and Medieval literature at Sofia University. He is member of the editorial board of several scientific journals. Along with research publications and monographs in the field of classical philology, he is author of a book and a number of articles on Bulgarian education
Prof. Gerdjikov has been Vice-Minister of Education and Science, responsible for higher education (2001–2003) and Chief executive of the Bulgarian Science Foundation (2008–2009). As Vice-Minister and later as expert at the Education and Science Parliamentary Committee to the National Assembly of Bulgaria he has participated in the preparation of analyses, laws and regulations in the field of education and science, in particular in the preparation of the chapter on accreditation in Bulgarian Higher Education Law. He has also developed policies and strategies in the field of higher education and scientific research.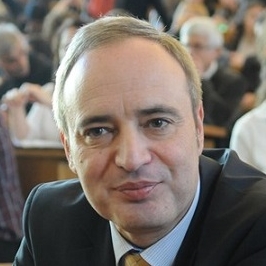 Rector, Sofia University St. Kliment Ohridski
Sofia University St. Kliment Ohridski