UNICA Scholarly Communication webinar: Practices of transformative agreements in Europe | 15 June 2022
Transformative agreements are truly transforming the relationships between the scholarly publishers and the universities. It is probably too soon to get a clear picture of what is happening across Europe, but some trends have been detected.

The webinar aims at providing participants with the opportunity to listen and learn from the perspectives of guest speakers from three different countries (UK, Germany, and Spain). Furthermore, the event will provide insights and the opportunity to discuss on the impact of transformative agreements on publication practices. Finally, a reflection on the meaning of transformative agreements in 21st century literacies will drive us into the future.
Register now!
UNICA Scholarly Communication webinar | 15 June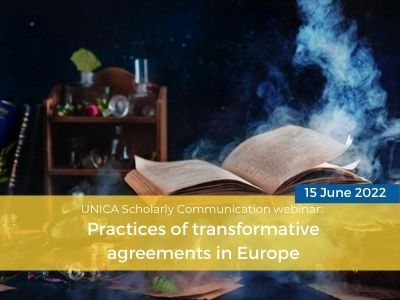 15 June, 15:00 - 16:30 CEST
online
Promoted by Universidad Carlos III de Madrid
Contact
Laura Brossico (laura.brossico@unica-network.eu)
Alexandra Duarte (alexandra.duarte@unica-network.eu)